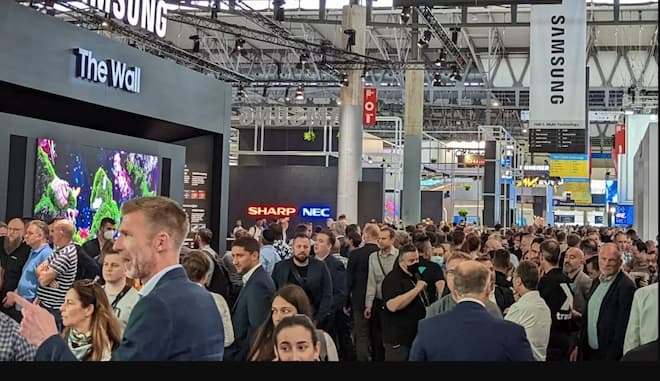 Digital Signage Tradeshow News
Observations and pictures of ISE 2022 by Dave Haynes at Sixteen:Nine.  It's worth noting this might be the first post regarding a in-progress digital signage tradeshow in three years. Haynes provides a lot of pictures with lots of people.  Barcelona is nice.  InfoComm 2022 June 4 is the next big US AV show.  Covid is a definite consideration. Good news from Spain is almost 90% are vaccinated + its not like the show is in Madrid. Cataluna is 26 cases per 100,000. Not to be cynic but Chicago is 69% and 33 cases per 100K, and on the rise. Las Vegas?  Well, its 60% vaccinated and 12 cases per 100K.  It has increased 83% in last two weeks.
In Brief
Haynes did not make the trip due to multiple factors
Lots of photos showing very busy traffic
Barcelona beats Amsterdam weather
Mentions — PlaceOS, ISE Immersive, LG monorail with transparent OLED, Samsung Wall
Excerpt
Sixteen:Nine's German language content partner Invidis has people at the show and Florian Rotberg put up a quick post summarizing things:
Long queues in front of the entrances, full aisles in the exhibition halls and a good atmosphere everywhere. ISE is back and the industry is happy. The skepticism has gone and the move to Barcelona has been a success despite the pandemic. For most ISE visitors, the first thing to do is find your way around.
There's some good advance coverage of the show here, and your browser should do a decent job of converting German to English.
More Information