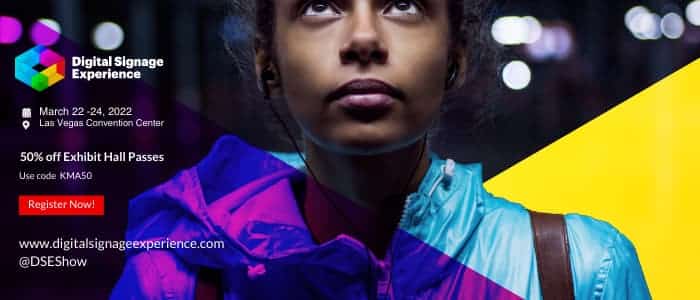 DSE 2022 Update
Editors Update — November 17-19 in Las Vegas — https://www.digitalsignageexperience.com/
November
---
From Sixteen:Nine
The industry-specific trade show re-booted as Digital Signage Experience has been pushed back to November 2022 – another event affected by the pandemic that keeps on going.
The show was supposed to run in late March in Las Vegas as a new take on the Digital Signage Expo show and conference that ran for some 15 years, before going under in 2020. The assets were acquired in auction by the New York-based events company Questex, and DSE was then revived with a slightly tweaked name.
The show will be now run Nov. 17-19 and operate in tandem with a pair of Questex-managed business events, LDI (Live Design International) and XLIVE. DSE will be in LVCC Central Halls 1 and 3 and LDI and XLIVE will take place next door in North Halls 1-4.
Both of those are aimed at the live events and entertainment industries, and while they may seem like very different businesses from digital signage, there is substantial crossover on the display and infrastructure aspects of live shows and large format digital signage. InfoComm veteran attendees will recall sections of the exhibit hall at that AV trade show that are tuned to live events, like stage and lighting.
Questex says DSE, in future years, will also run in November and continue to be tied to LDI.
Get the full story From Sixteen:Nine