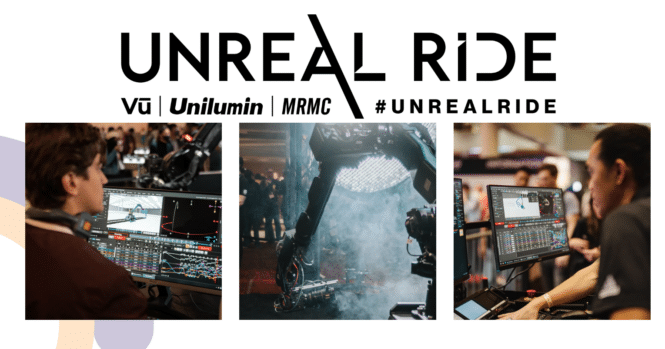 InfoComm 2023 Emerging Technology Highlights
InfoComm 2023 Will Put the Spotlight on Emerging Technologies in the Pro AV Industry
FAIRFAX, Va., June 1, 2023 — InfoComm 2023 will put the spotlight on emerging technologies, from augmented and virtual reality to AI, to virtual production. Leading experts will dive into these topics in the vast education program and solution providers will showcase the technology in action on the trade show floor June 10-16 (exhibits 14-16) at the Orange County Convention Center in Orlando, Florida.
Virtual Production in Action
InfoComm attendees will get a first-hand look at how virtual production works at The Unreal Ride, A Virtual Production Experience Presented by Vū, Unilumin, and MRMC (booth 6081). The teams have collaborated to debut an entirely new Unreal Ride featuring a Jeep where two participants can ride through newly created virtual worlds specifically designed for InfoComm 2023. Attendees will experience a blend of the physical and virtual worlds through a combination of the latest innovations in virtual production technology, including advanced LED panels, a motion-controlled camera, camera tracking and virtual environments created with Unreal Engine, and lighting optimized for virtual production.
"We're really looking forward to this virtual production experience Vū, Unilumin, and MRMC are bringing to InfoComm 2023," said Rochelle Richardson, CEM, Senior Vice President of Expositions and Events, AVIXA, producer of InfoComm. "The InfoComm audience is not only going to see the magic of virtual production – they're also going to get to participate!"
A Deep Dive into Emerging Trends
On Tuesday, June 13, InfoComm will present "Emerging Trends," an annual review of the industry's latest technology advancements. The half-day program led by Pete Coman of PTS Consulting will take attendees on an exciting journey to discover how technologies such as AR, VR, NDI, Dante AV, wireless collaboration solutions, and other emerging tech will revolutionize the way we connect and collaborate.
The day begins with the session "Beyond Reality: Exploring the Future of Work with Virtual and Augmented Reality" led by Linda Gedemer of AlphaTech. Next, Oliver Van Camp from Barco and Christopher Jaynes of Q-SYS will present "Unleashing the Power of Connectivity and Collaboration: A Glimpse into the Future." Paul Harris from Aurora Multimedia will discuss "Revolutionizing the Workplace: The Future of Audio Visual & Control Technology." The program concludes with the session "NDI and Dante AV: Which one is the real AV superhero? with Paul Richards of PTZ Optics and Will Waters from Audinate.
"The education program at InfoComm 2023 will show you the endless possibilities of pro AV technology," Annette Sandler, Director, Live Content, U.S./Canada, AVIXA. "Attendees can take classes on specific technologies they need to learn more about and different applications and case studies for projects that they're working on. Our Emerging Trends program is a must-attend for anyone wanting to know "what's next" in the ever-evolving world of pro AV."
All About AI
InfoComm 2023 will host more than 100 hours of education on critical pro AV topics, including emerging technologies like AI.
On Wednesday, June 14, Diversified's Stephen Jenkins and Blaine Brown will present the session "The Impact of AI: How AI Will Enhance and Transform the Industry" at the Technology Innovation Stage (booth 2260). They'll explore AI-powered collaboration solutions and revolutionary cloud services, such as OpenAI and Microsoft Copilot. They'll also discuss the imminent shift from "preventative" to "predictive" maintenance through AI-enabled analytics, leading to self-healing capabilities.
Brad Sousa of AVI Systems will present "Integrating Tools to Make the Workplace More Useful: AI and Smart Technologies" on Thursday, June 15. In this session, Sousa will discuss how AI and smart technologies can enhance meeting and workspaces, concierge services for individual employees, and security tools – all using sensors, IoT, occupancy and access control to correlate data.
For more information on InfoComm 2023 and to register for the show, visit www.infocommshow.org.
InfoComm 2023 is sponsored by Strategic Partners Blackmagic Design and Crestron and Supporting Partner Shure Incorporated.
For ongoing conversations and news about InfoComm 2023, visit the InfoComm room on AVIXA Xchange, a unique community for the AV industry designed to connect thought leaders, industry-leading solution providers, and innovative manufacturers with AV solution seekers.
Downloads:
About InfoComm
InfoComm is the largest technology exhibition and conference in North America focused on the pro AV industry. The exhibition is produced by the Audiovisual and Integrated Experience Association (AVIXA) and currently ranks as the 28th largest trade show in the United States by Trade Show Executive. In addition, AVIXA and its partners produce a global portfolio of trade shows and conferences, including InfoComm China, Beijing; InfoComm India; InfoComm Southeast Asia; Integrate; and Integrated Systems Europe.
About AVIXA
AVIXA is the Audiovisual and Integrated Experience Association, producer of InfoComm trade shows around the world, co-owner of Integrated Systems Europe, and the international trade association representing the audiovisual industry. Established in 1939, AVIXA has more than 20,000 enterprise and individual members, including manufacturers, systems integrators, dealers and distributors, consultants, programmers, live events companies, technology managers, content producers, and multimedia professionals from more than 80 countries. AVIXA members create integrated AV experiences that deliver outcomes for end users. AVIXA is a hub for professional collaboration, information, and community, and is the leading resource for AV standards, certification, training, market intelligence, and thought leadership. Visit avixa.org.
FOR IMMEDIATE RELEASE
PRESS CONTACT:
Krystle Murphy, Communications Manager, AVIXA
Email: [email protected]
Phone: +1.703.279.6366
---
More Posts